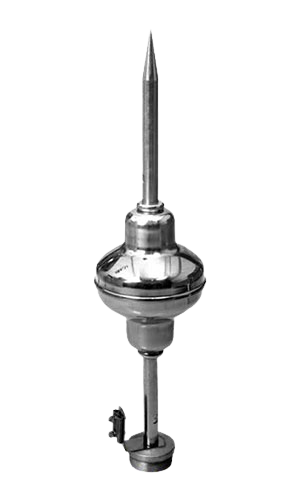 Specifications
Non-Electronic ESE.
Designed & tested as per NF C 17-102 (2011) standard.
ΔT = 60 μsec (Triggering Time Advance Delta T).
100 KA (10/350 μsec) lightning current & 200 KA peak current tested in HIZAL (Turkey, Europe) lab.
No use of battery or external power source.
304L (Inox) Stainless Steel design— suitable for any environmental conditions.
Suitable for use with a variety of down conductors tape/strip, round conductor, isolated / insulated cables etc.
20 years warranty.
Protection radius as per NF C 17-102 (2011)
| Mast Height h(m) | Level I (Very High) | Level II (High) | Level III (Medium) | Level IV (Standard) |
| --- | --- | --- | --- | --- |
| 2 | 31 | 35 | 39 | 43 |
| 3 | 47 | 52 | 58 | 63 |
| 4 | 63 | 69 | 78 | 85 |
| 5 | 79 | 86 | 97 | 107 |
| 6 | 79 | 87 | 97 | 107 |
| 8 | 79 | 88 | 98 | 108 |
| 10 | 79 | 88 | 99 | 109 |
| 15 | 80 | 89 | 101 | 111 |
| 20 | 80 | 89 | 102 | 113 |
| 45 | 80 | 89 | 105 | 119 |
| 50 | 80 | 89 | 105 | 120 |
| 80 | 80 | 89 | 105 | 120 |
| 100 | 80 | 89 | 105 | 120 |